A catechetical series of five YouTube talks by Bishop John will aid us as we progress through the 'Making All Things New' programme.
Change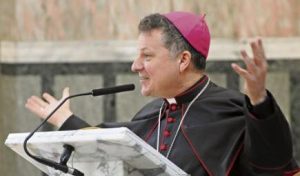 The short talks, which are followed a Gospel passage and points for reflection, will be posted each week leading up to our Open Meetings.
In the fourth talk, Bishop John said, "As your shepherd, I want to make sure that generations to come have that same experience of parish life; I want them to belong to parishes that are vibrant, energetic and dynamic. I want them to have parishes where not only memories are made but where they get a sense of what it is to belong to a living, breathing and evangelizing Catholic community."
Are we aware of the darkness, the difficulties faced by many of our parishes? Do we trust in God's plan for our Diocese? Or are we sceptical & cynical? Are we prepared to leave the empty tombs of the past and embrace God's plan for our future?
You can access the fourth talk by clicking here.